Shacket Outfit Ideas Four Seasons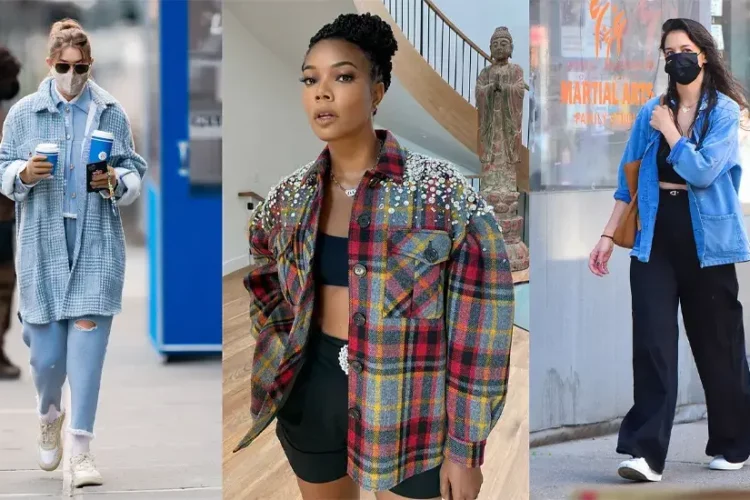 Are you looking for shacket outfit ideas for every season? If so, you're in luck! We've compiled 15 stunning shacket outfit ideas to help you stay stylish and warm during the colder months. From cozy sweaters to layered looks, these are perfect for various occasions. Whether attending a dinner party, going to the office, or just hanging out at home, these shacket outfit ideas keep you looking and feeling your best all seasons.
What is a shacket?
A lifestyle and fashion blogger named Hang Nguyen explains that a shacket is a mixture of a shirt and a jacket. It is frequently a little big and has a shirt-like appearance but is constructed of heavier cloth. It's also not quite a jacket, even though the thicker cloth helps to identify this from a shirt.
There are cropped varieties of shackets (aka shirt jackets) in addition to the more common longline and larger styles. The fabric of a shacket is often lighter than a jacket, and it can be readily layered and worn all year round. The variety of shackets—from solid colors to plaid to leather to denim—makes them an adaptable clothing item.
How to Style a Shacket?
Before getting into any shacket outfit ideas, let's go over some styling advice.
Layer
The beautiful thing about shacket is that they can be layered for any season.
If the weather is warm, you can layer your shacket over a tank top, t-shirt and shorts. It's lightweight, so it won't likely make you feel overly warm (and you can easily take it off if you get too hot).
You can layer a heavy turtleneck sweater or sweatshirt underneath if the weather is chilly for extra comfort.
Naturally, shackets are big. Therefore, they always look excellent underneath a crop top or other tight-fitting shirt to make the outfit look less bulky. Alternatively, choose a pair of tight jeans to balance out the look if you wear them with an oversized top.
Accessories
The majority of shackets don't make a big statement. Therefore, it's essential to remember that small things can enhance your style.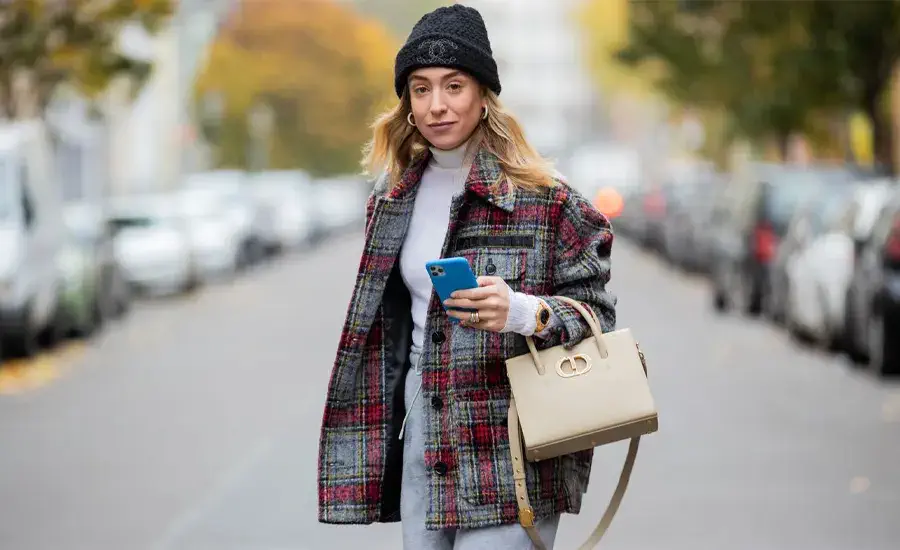 Here are a few wonderful examples of accessories that go perfectly with shackets:
an eye-catching hat
your favorite crossbody bag
a statement necklaces
sunglasses
oversized earrings
a statement belts
Shacket Outfit Ideas
There are many shacket outfit ideas that you can wear on any occasion. Let me share some of my shacket outfit ideas or styles with you. And trust me, these styles will help you in many ways.
1.Denim on Denim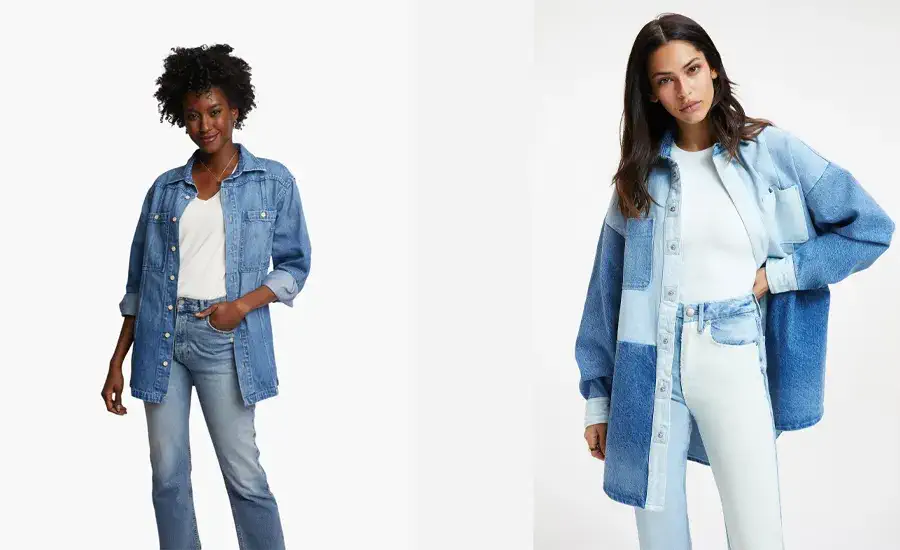 A denim shacket is ideal for any casual occasion when worn with a simple white top and white sneakers. Combines a light blue shacket with denim jeans, making the denim-on-denim feel trendy right now.
2.Make It a Dress
One of my favorites (and easiest) look involves buttoning up your shacket and putting tiny shorts underneath to make it seem like a dress. For this outfit, less is more. Wear it with your favorite handbag, matching shoes, and perhaps some subtle jewelry and sunglasses.
I like this outfit when paired with knee-high shoes.
3.Dress & Knee-High Boots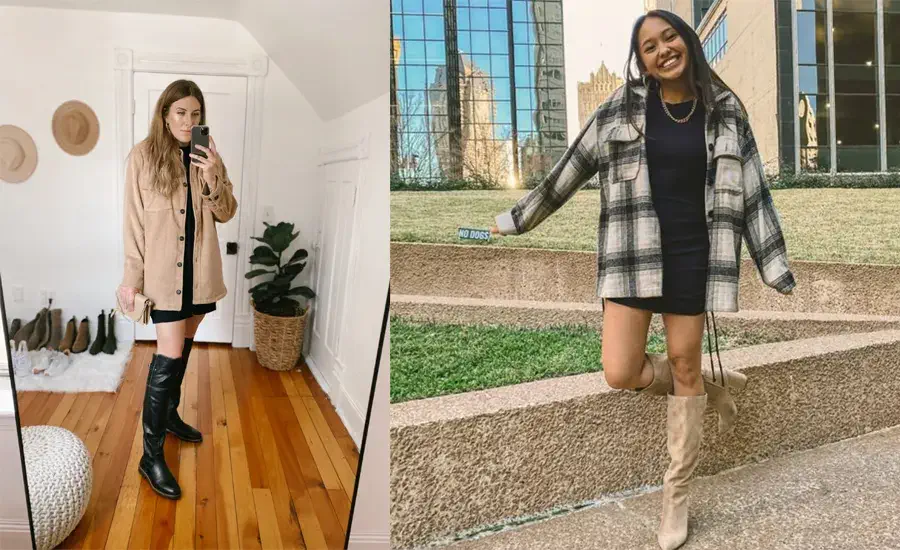 In shacket outfit ideas, take inspiration from this outfit if you want to dress up your shacket while maintaining a casual look. This outfit is ideal for a night out because it includes a lovely black bodycon dress and stunning knee-high boots that match the shacket.
4.All-black everything
Regarding shacket outfit ideas, one of the hottest looks is all-black everything. Whether you're hitting the streets for a night out with friends or dressing up for a special occasion, an all-black ensemble can be stylish and sophisticated.
To pull off this look:
Start with a classic black shacket made from lightweight cotton or polyester.
Layer it over a crisp white button-up shirt, then add a pair of slim-fit jeans or tailored trousers.
Finish off the outfit with black ankle boots or heels, and you'll have an elegant outfit that will make you look chic and stylish.
5.With a mini skirt
A mini skirt is a way to go if you're looking for shacket outfit ideas to rock this winter. Miniskirts are a timeless wardrobe staple. They're perfect for creating a trendy and stylish look paired with a shacket. Whether you're heading out to brunch with friends or on a date night, this style will greatly help you. There are plenty of ways to style a shacket with a mini skirt.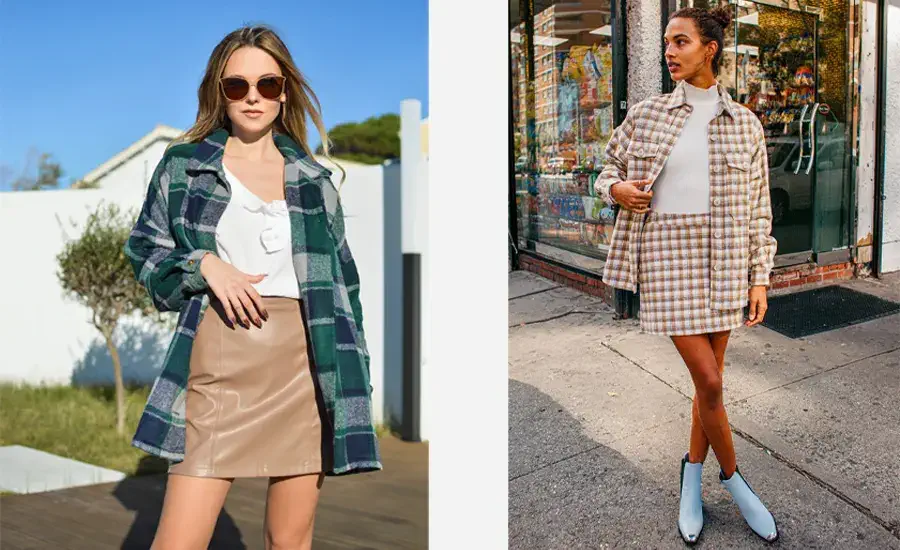 Pair a mini denim skirt with a plaid shacket and white sneakers for a more casual vibe. Try a pleated leather mini skirt with a structured blazer-style shacket and heels to dress it up. If you're looking for something more unique, try a sheer tulle mini skirt and top it off with a bright-colored oversized shacket for an unexpected pop of color.
So, if you're ready to rock the shacket trend, try pairing it with a mini skirt for an effortless and stylish look. Remember to accessorize no matter what type of shacket outfit you choose!
Different colors and textures of shacket
Shackets are available in a variety of colors, patterns, and materials. But remember to experiment with other textures like Sherpa, corduroy, or even quilted.
The best tip is to stick with textures you already know and appreciate because they go well with various styles and combos. Some different and unique color or colors of shackets are listed below that will definitely help you a lot if you are looking for shacket outfit ideas.
Black and white shacket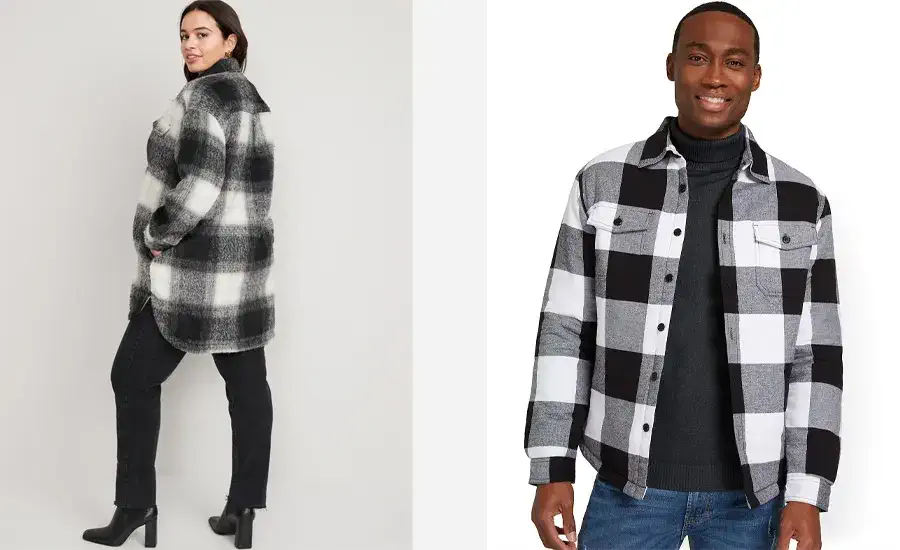 Regarding shacket outfit ideas, black and white is always a classic combination. This timeless pairing can be dressed up or down to create a stylish look, whether Winter, spring, summer, or fall. It is a check of black and white color on the shacket. No matter what season it is, a black and white shacket will give any outfit an elevated touch.
Quilted shacket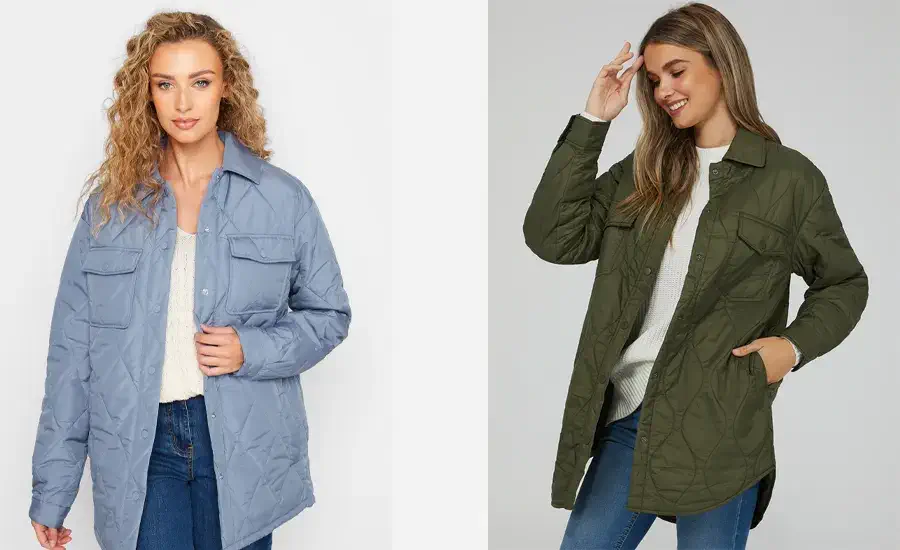 A quilted shacket is a must-have for any winter wardrobe, as its versatility makes it perfect for casual and formal occasions. The combination of quilted fabric and classic design elements make the quilted shacket an ideal item to wear all season long. Winter is a great time to get creative with your shacket outfit ideas.
Hot pink shacket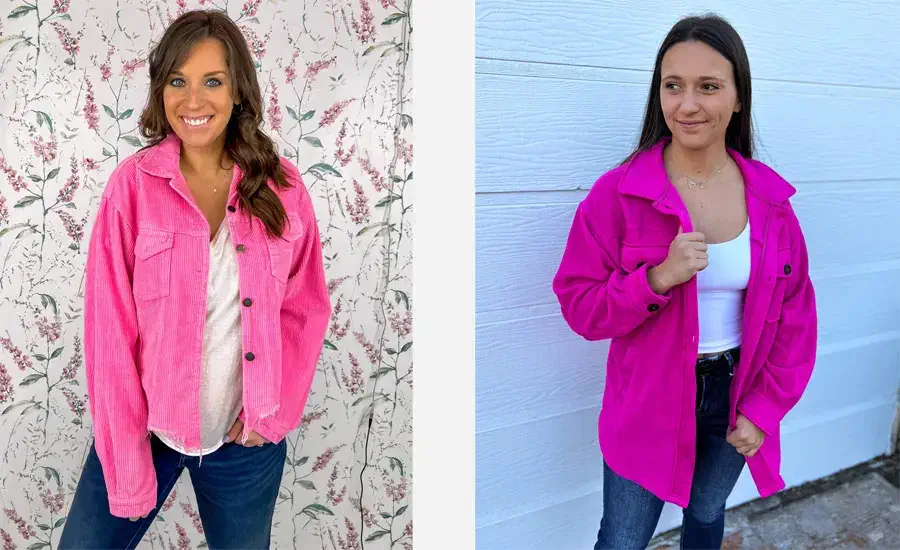 A hot pink shacket is the perfect way to add fun and color to your look. The bright hue will instantly draw attention and elevate any ensemble. You can easily style this statement piece with jeans and a tee for a casual look or pair it with a skirt and blouse for a more polished vibe. Layer it over a dress for a chic, modern take on the trend.
Houndstooth shacket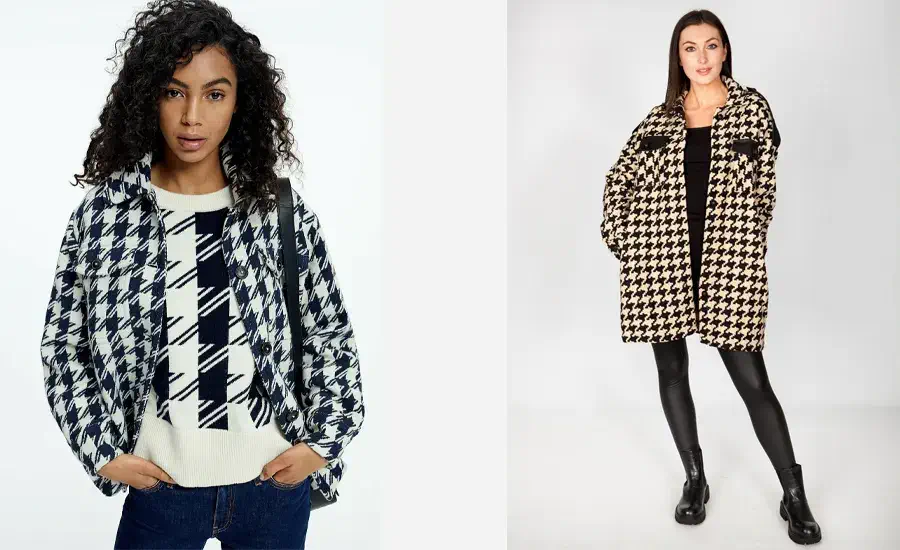 Houndstooth is a typically small broken-check textile pattern. It can also refer to a cloth that is woven in this pattern. A Houndstooth shacket is typically associated with Winter. Still, it can be worn in the summer if you choose the right fabric.
Teddy shacket
If you're looking for a cozy and stylish way to stay warm this Winter, then a teddy shacket is a perfect choice. This fuzzy and fashionable item can easily be dressed up or down and works great as a layering piece. Whether you're attending an outdoor event or want to stay comfortable at home, a teddy shacket is the perfect addition to your winter wardrobe.
Buffalo plaid shacket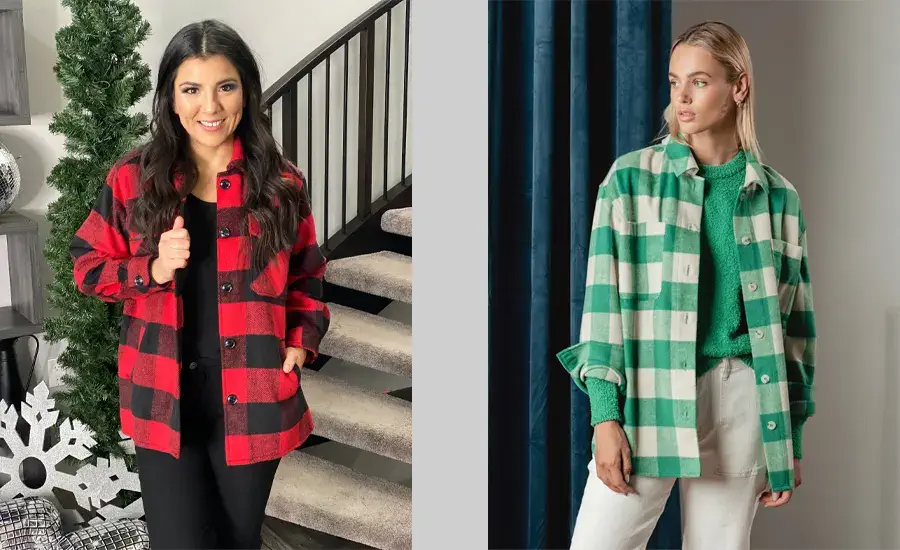 Buffalo plaid is always a popular winter trend, and this season is no exception. Try pairing a buffalo plaid shacket with some classic pieces for a cozy yet chic winter look. Start with a lightweight shacket in a bold red and black pattern and layer it over a long-sleeved white shirt or thin sweater. This one is my favorite too. I like it, especially the red and black buffalo plaid shacket.
Camel shacket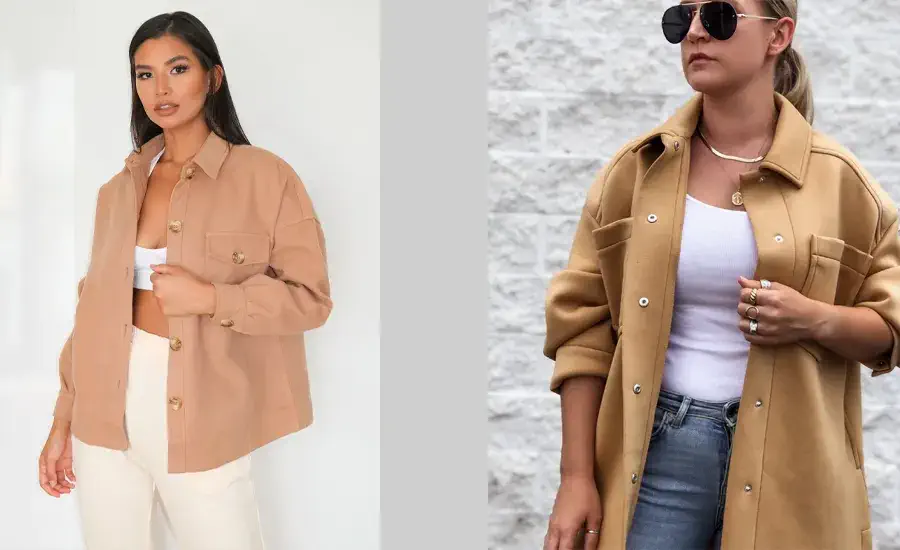 One of Winter's most fashionable shacket outfit ideas is to rock a camel shacket. A camel shacket is a stylish and timeless look that will never go out of style. The key to nailing this look is to pick a shacket with a slightly oversized fit. A classic, neutral color like a camel is a great choice as it pairs well with any other colors you want to add to your ensemble.
To complete the look, team the shacket up with jeans and some trendy boots for an effortlessly cool and put-together look.
Color block shacket
Color block shackets are especially popular this season, with bold colors and designs that will make you stand out.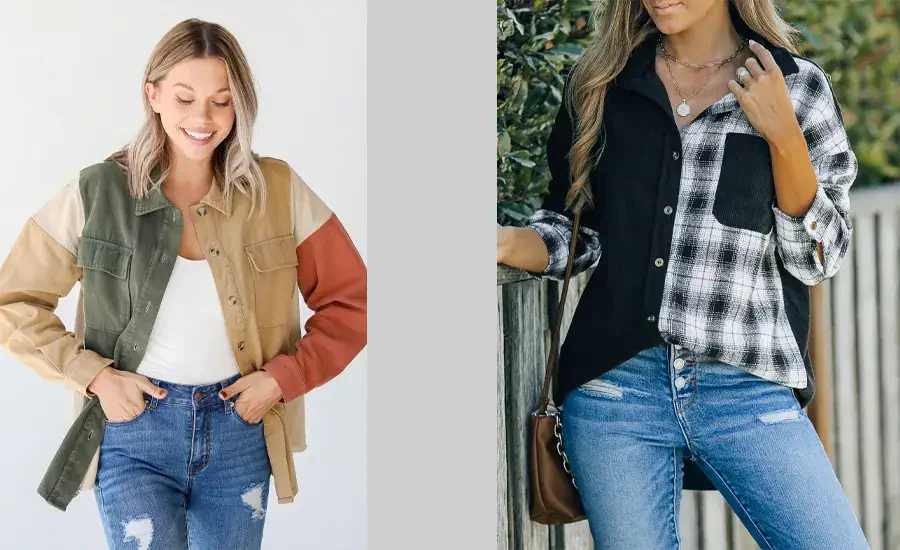 Here are some of our favorite color block shacket outfit ideas for Winter:
Try pairing a classic black and white color block shacket with a pair of navy-blue jeans and a soft cream sweater for a timeless look. Add a pair of white sneakers and some statement earrings for extra style points.
Make a bold statement in a bright blue and yellow color block shacket over an all-white ensemble. Please keep it simple with a t-shirt, skinny jeans, and white sneakers, or dress it up with a pleated skirt and some heeled booties.
Go casual with a neutral color block shacket over a neutral top and bottom. Layer it over a long-sleeve shirt and high-waisted jeans, or wear it open over a dress and ankle boots.
Leopard shacket
The most appealing and attractive thing in shacket outfit ideas is the leopard shacket. Adding a leopard print shacket to your wardrobe is the perfect way to stay on trend all year round. Whether you're looking for an edgy winter style or a summer-ready ensemble, a leopard shacket is the perfect piece to keep your look fresh and stylish.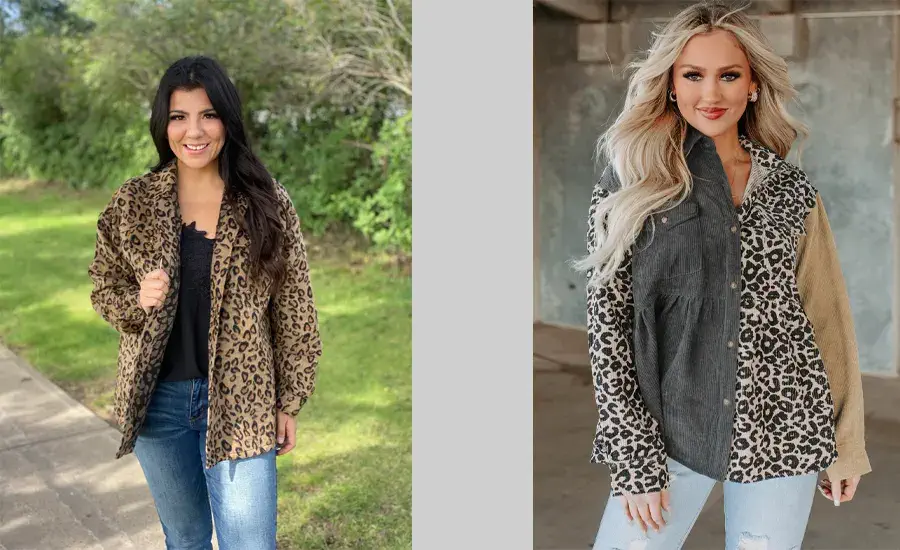 Regarding styling, there are endless ways to wear a leopard shacket. Try pairing it with denim shorts and a graphic tee for a relaxed summer look. Or, layer it over a crisp white shirt and high-waisted jeans for a chic evening outfit. You can also pair it with a flowy skirt and a tucked-in tank top for a dressier summer look.
Final words…
I hope you understand what a shacket is and its styles and different textures and colors come in it. I tried my level best to gather all this information about shacket outfit ideas. Now you understand everything about shacket. Suppose you want to learn more about fashion. In that case, you can read A mix of min I Boston fashion blogger. He is a very famous fashion blogger.
Read also: Russian Fashion Blogger In New York
Hot pink shacket ideas
Jackets
quilted shacket and white shacket
shacket outfit ideas
shacket outfit ideas for every season
Teddy shacket